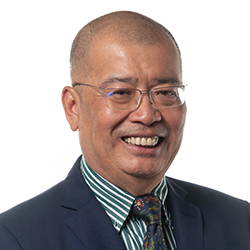 Dato' Raymond Yeong
Executive Chairman
Dato' Raymond has a distinguish career in the sales and marketing in Fast moving consumer goods ('FMCG') sector as well as payment cards, electronics and computer equipment services industries.
As sales promotion manager, he handled the sales marketing, distribution and promotional functions of Kellogg products – subsequently led Kellogg to become the top and most successful brands in its category. Dato' Raymond achieved a very favourable sales growth during his time as a national sales manager at CPC-AJI (M) Sdn. Bhd, among other achievements.In the payment industry, Dato Raymond was responsible for a major spectrum of card and establishment marketing activities centering on the marketing of the Diners Club card.
Dato' Raymond Yeong was formerly attached to CSC Malaysia Sdn Bhd since 1999. As Consultant of the company, he focused in the areas of Managed Services, Technology consulting and Complex System Integration. His responsibilities include leveraging of consulting and strategic outsourcing and technology management.
He has developed a significant number of strategic relationships and alliances with the senior management of the financial and commercial sector. He was an active member of the Executive and Management Review Committee of the Maybank and CSC Malaysia Sdn Bhd, a ten (10)-year term IT sourcing engagement since 2003, and the contract is still on-going.He is well-recognised and respected not only in the information technology ("IT") arena, but also in the financial services and corporate sector.
He attended various education programmes at Kettering Technical College, Central London College and London School of Economics(LSE). He also took up the Asian International Executive Program and Joint Venture Management courses at INSEAD, Singapore campus.
With his over 30 years vast experience and extensive business network, Dato' Raymond Yeong will contribute significantly to Cardzone in terms of business strategies and leadership skill in assisting the company top management in bringing the company to greater height.