Cardzone 3DS solution
Growth in e-Commerce Transactions
Over the last few years the ecommerce and online business has become highly popular. It has grown to a greater extent due to its ease, flexibility and convenience. With this, the use of credit cards as the preferred mode of online payment has also increased considerably.
However, many people claimed about the hacking, misuse and similar illegal usages of the credit cards on the internet. To have a safe, secure and hassle free online merchandising a new system was introduced with the title 3D secure.
What Is 3D Secure Card Validation?
3D Secure was designed and developed by Visa and MasterCard to secure online shopping transactions and authenticate the cardholder's identity. 3D Secure was designed to reduce risks of unauthorized card usage. With 3D Secure in place, online shopping has become more safe and secure for the merchants and the customers.
Visa has branded their system as "Verified by Visa" and MasterCard offers its system under the brand of "MasterCard SecureCode."
3D Secure 2.0
3DS 2.0 is expected to make the transaction both more secure and friction free. Among the expected upgrades include user authentication by one-time passwords, biometrics and backend authentication; authentication over multiple platforms; and there will not be any more pop-up windows during the checkout process (arguably the biggest complaint among merchants).
With such upgrades, consumers will experience a smoother, more secure checkout process while merchants can expect less cases of checkout abandonment.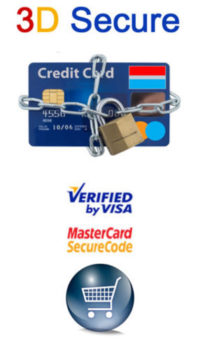 Advantages Of using 3D Secure
There are many advantages of using 3D Secure. Some of them are given below:
• Liability Shift – The largest impact for the online merchants using the 3D Secure scheme is the assurance of the shift of liability on every transaction that is successfully verified. It provides merchants security against fraud loss and disputed transactions.
• More Protection — Authorization requires confirmation of identity, code etc. from the card issuer.
• Great Customer Experience — Using the improved 3DS 2.0 protection such as Verified by Visa or MasterCard SecureCode provides greater customer confidence. Clients can now enjoy a smooth and secured online purchase experience.
• Increase in Sales — with the new customer confidence there is an increase in sales.
• More International Transaction — merchants find it safe to accept international card transactions.
As consumers become more sophisticated and the push for frictionless payment increases, merchants should strongly consider the benefits of 3D Secure 2.0. As e-commerce and m-commerce continue to grow, merchants should strive to optimize customer experience without foregoing security. 3D Secure 2.0 bridges the gap between both while enabling merchants to enjoy higher authorization rates and fewer false declines
To sum up, the 3D Secure system is an innovative way of keeping online payment secured and Cardzone 3DS merchant payment gateway (MPI) and Card Authentication Server (ACS) have been certified by Visa and MasterCard for their respective 3DS branding i.e. Verified by Visa and MasterCard SecureCode version 1.0 as well as the latest 3DS version 2.0.