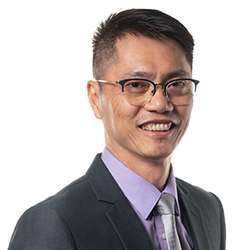 Mr. Chin Min Fei
Chief Executive Officer
Min Fei has accumulated more than 30 years of experience in the card payment industry. Equipped with in-depth knowledge in financial card payment and identification application, he is much sought after for his expertise in this industry especially in the Asia Pacific market.
His career highlight is when he represented GMPC Corporation as Bid Manager and Chief Solution Architect, the company has been awarded the Malaysian MSC Flagship project – Malaysia Government Multipurpose Chip Card Program worth RM270 million. Min Fei also helps many foreign payment services solution vendor penetrated into Asia Pacific market by captured many strategic sales in the region.
Prior to Cardzone, Min Fei held positions in many MNCs including Sales and Solution Director in SunGard, Min Fei was responsible for top-line of the card business unit. After Sungard, Min Fei joined Wincor Nixdoft Asia Pacific HQ in Singapore, the world number 2 ATM provider as General Manager of Solutions Sales.
Other senior positions that Min Fei has held are Business Development Director and Head of Sales for many payment services vendors.
Min Fei specializes in several professional skills including business development, product management, bid management, account management, professional selling, demo & presentation management, proposal design & management, project management, risk management, system integration management and solution architecture design management.
Min Fei graduated with Degree in Computer Science from Campbell University, U.S.A