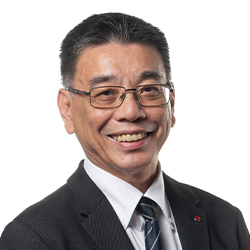 Mr. Danny Lo
Founder & Advisor
Danny is a veteran in the card management business as well as business and IT management consultancy arena. Prior to setting up Cardzone Sdn Bhd, Danny held positions in many MNCs including Programme Director in SunGard System Access, a USD 5 billion software company. Other senior positions that Danny has held are Project Director with Visa International, world's largest credit card company and Senior Manager with PricewaterhouseCoopers, world's largest auditing and management consultancy company.
Danny also founded Commerce Exchange Pte Ltd (Comex) in 1999 and built the company up to more than 150 employees with offices in Singapore, Malaysia, Hong Kong, Taiwan and Japan. Commerce Exchange subsequently acquires GeneSys Software Sdn Bhd, the makers of an open system Card Management System (CardPro) in Malaysia. Danny as the Group COO of Comex GeneSys group, has a key role in sales and project implementation of CardPro in major banks around Asia Pacific, e.g. Bank of Shanghai in China, Sinsei Bank in Japan, First Commercial Bank in Taiwan etc. In 2007, Comex GeneSys was acquired by SunGard.
With over 30 years experience in management consultancy in the technology and financial service sector, Danny brings a wealth of expertise in technical consultancy, business advisory, sales, pre-sales, technical product development and project delivery fields. Danny graduated with Degree in Computer Science from Monash University, Melbourne, Australia.